Anatomy of a NOOK Event Pod
| | |
| --- | --- |
| Shell Specifications | 200cm wide x 196cm tall x 92cm deep |
| Shell Color | White |
| Upholstery | Camira > Xtreme > Blizzard Grey |
| Seats | Standard (Set of 2 bench seats) |
| Table | White Laminate |
| Real Wall Lower | Include |
| Real Wall Upper | White Board Optional |
| Mains Power | Mains Plug to 4-way surge protected PDU under base. |
| Desktop Power | Mains 3-way USB PDU |
| Overhead Lighting | RGB LED w/9 Hues: Color control via remote control |
| Lampshade | White Fabric |
| Assembled or Flatback | Units arrive Assembled |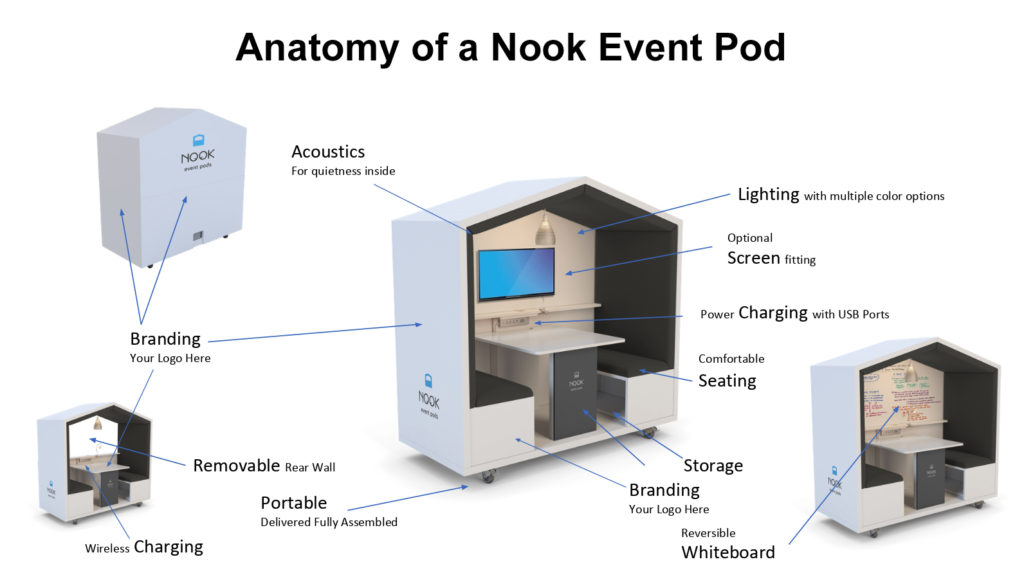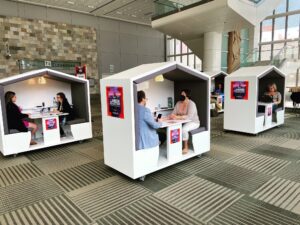 The NOOK Village
Rethink Meeting Zones, Relaxation Stations and Catering Areas
Trade Show Exhibit Halls are generally overflowing with attendees, but lack quiet space for meetings, networking or relaxing or for seating in a food and beverage area. At many shows, finding some semblance of privacy is nearly impossible. Attendees are forced to go offsite or worse still, find a table in a common area, where it's difficult to negotiate or discuss confidential material without being overheard.
NOOK Event Pods by The Deondo Company provide event management companies a solution that attendees and exhibitors love. The modular, mobile, semi-private meeting space of a NOOK Event Pod is designed to allow for collaboration, presentations, negotiations and closing deals. It's also perfect for networking and relaxing, as The NOOK Event Pod provides solitude from the crowds. Attendees and exhibitors don't have to leave the venue to find privacy and comfort just off the busy, main event floor.
With the NOOK Event Pod Village (or the combination of multiple NOOK Event Pods), show organizers can construct a meeting zone that can be monetized by selling corporate sponsorships for the area and/or leasing out meeting space on a daily or hourly basis.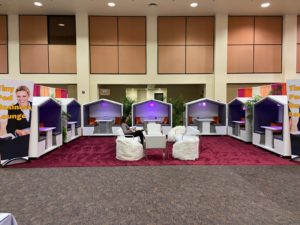 Multiple NOOK Event Pods can also be utilized as part of a Food and Beverage offering. The units are positioned in an end-to-end "U" configuration and the upper half wall on each unit is removed. A food and beverage service station is placed in the middle of the "U," and voila! a café or coffee/juice bar is created. This offers attendees and exhibitors a place to talk, power up their mobile devices, grab a coffee or bite to eat and meet with prospective clients, employees or colleagues.
Other Attributes:
NOOK Event Pods are mobile! They come completely assembled and ride on heavy-duty casters, which allows for easy movement on the event floor or from one location to another. The Deondo Company maintains inventory of NOOK Event Pods in key trade show cities throughout the United States and can cater to last-minute requirements.
NOOK Event Pods come standard with power supply units, USB ports and wireless charging stations. They can also be outfitted with digital monitors inside or outside the unit for messaging or presentations and logo/branding display.
Most folks attending a trade show are still charged with daily assignments, sales calls and proposals. The NOOK Event Pod – with its tech-equipped workspace and relaxed, focused environment – allows for execution of those tasks without exiting the event.
The NOOK Village by Deondo is an excellent addition to any trade show and a unique revenue generating program for the show owner or management group.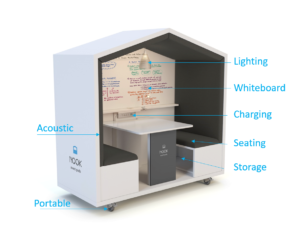 NOOK Event Pod Technical Specifications
| | |
| --- | --- |
| Capacity | 1-2 people for longer periods of time. Up to 4 people for shorter time periods |
| Width | 6' 7" external |
| Depth | 3' 3" external |
| Height | 6' 5" external |
| Table Width | 2' 10" |
| Weight | 440 lbs. |
| Max Load | 880 lbs. |
| Fire Rating, Fabric | Camira Xtreme, Class 1IM |
| Fire Rating, Shell | Eurolight, rating D-s1 d0 |
| Fire Rating, Parts | EuroDekor MFC, rating D-s2 d0 |
Noise Reduction:
NOOK Event Pods are intentionally open on one side. The openness combats claustrophobia, air staleness and overheating that enclosed spaces experience. NOOK Event Pods balance the openness and approachability with a surprising quietness once inside. Users have called it: "an oasis of calm." It is not productive to put decibel readings on this effect as it's not a simple, quantifiable measurement; it is a feeling of intimacy and peace, which delights and promotes focus, as NOOK Event Pod users will attest.
Mobility:
NOOK Event Pod's heavy-duty lockable casters ensure 1-2 people can easily move, position and reposition a ​NOOK Event Pod. This portability, coupled with how NOOK Event Pods perform together, facilitates hyper-agile meeting environments.